Well, not really. But it sounded good!
First of all, Happy New Year to you all! I hope you had a great night, however you spent it.
Second, there
will
be a few changes on the blog, because I did think a lot about this space, and how I want to proceed in the new year.
I asked myself: What is my goal with the old Farm Girl (I also asked myself if it is time to re-christen the blog Farm Woman, but quickly shot that particular idea down. It sounds horrible! Farm Girl forever!)


For one, I want to create more of a community here. While I still love sharing tidbits of my daily life, my diary days have slowly come to an end. This is mainly due to my decreased need to figure myself out - writing it all out here was an incredible help, and has really made me come into my own. You may even go as far saying that
I have found myself
. Let's see how long it will last, I hear people lose themselves all the time. But for now, I'm in a good place.
The other goal I have is to grow my blog. Don't we all want that?
So in order to achieve these goals, I decided to take the plunge and do something that scares me a little: Host my very own linkup. It is called "Let's grow together" (as in, grow our blogs, grow the community, maybe even grow as people), and I will launch it on Wednesday. I already made a button, look!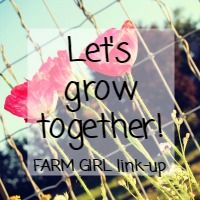 The purpose of the linkup is to meet other bloggers, make new friends, and yes, grow our blogs. There will be no theme, you can link up with any post you like or simply with your homepage!
Next to Grow-Wednesday (GroWednesday? Grows-day? I'm working on that) I will also start a new series: The
How To
series. I have brainstormed over the last few weeks if there are any areas in my life I have some expertise in. While I wouldn't call myself an expert in - well, anything, really, there are a few tricks I have picked up here and there. Those tips will be shared with you on Mondays. Yes people, here is the real kicker: I created a schedule for the blog. Here it is:
Three
days of themed posts per week! That's insanely organized for me. But I thought it's time. The other four days are still fair game to whatever pops into my head - as is Wednesday, come to think about it. All I have to remember on that day is to show up, and that should be manageable (let's hope).
Oh yes, and Fridays will be continued as the old faithful,
Fashion Friday
. Tested over many months, I know I can do that one!
Let's kick ass in 2015! New year, new story. Let's make it a great one!!
Linking up with Treasure Tromp